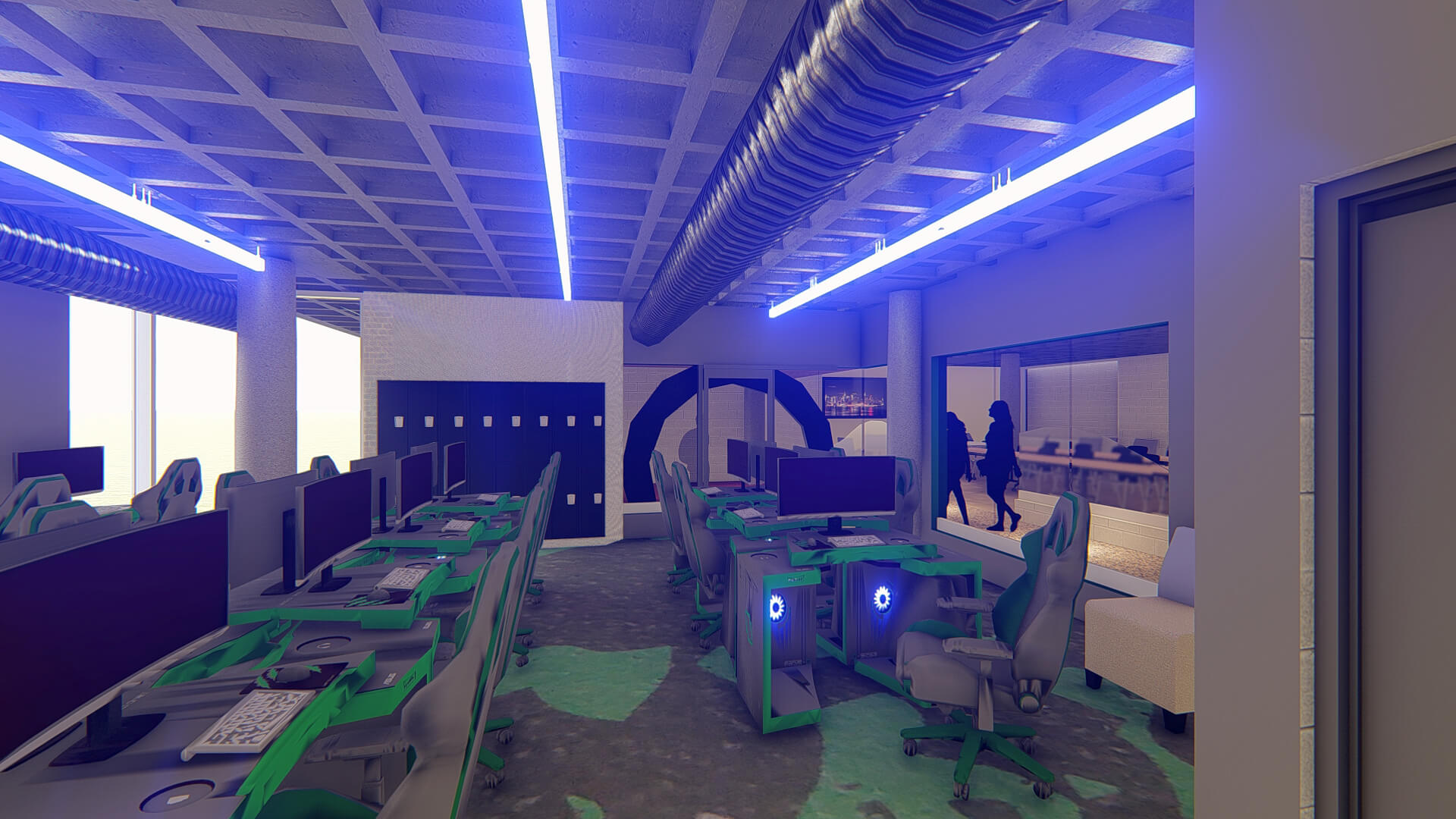 For the past 10 years or so, multiplayer video game competitions have been surging in popularity. With this increase in popularity, professional competitions, also known as eSports, have made their way onto college campuses. Schools across the country are adding eSports to their athletic departments and as a result, they are seeking architects and engineers to tailor the arenas to meet their needs.
Already a full varsity sport competing in the ECAC Conference, many colleges are growing their eSports programs and to do so, they needed a space that better serves the programs. The design for this conceptual project addressed the need for:
Increasing from 7 game stations and 10 athletes to 20 stations and 25 athletes
Increased visibility on campus, in the community and into the arena itself
A sci-fi feel within the space
Improved ventilation and air conditioning
A coach's station and area for group "film study"
Sponsorship opportunities
Increased storage
Improved data and electrical distribution to the arena
After evaluating the existing space, our team determined that we could slightly expand the room by reclaiming an unused partial stair behind the room. Improvements were made to both the interior and exterior of the space to create privacy for the gamers as well as a communal space for spectators.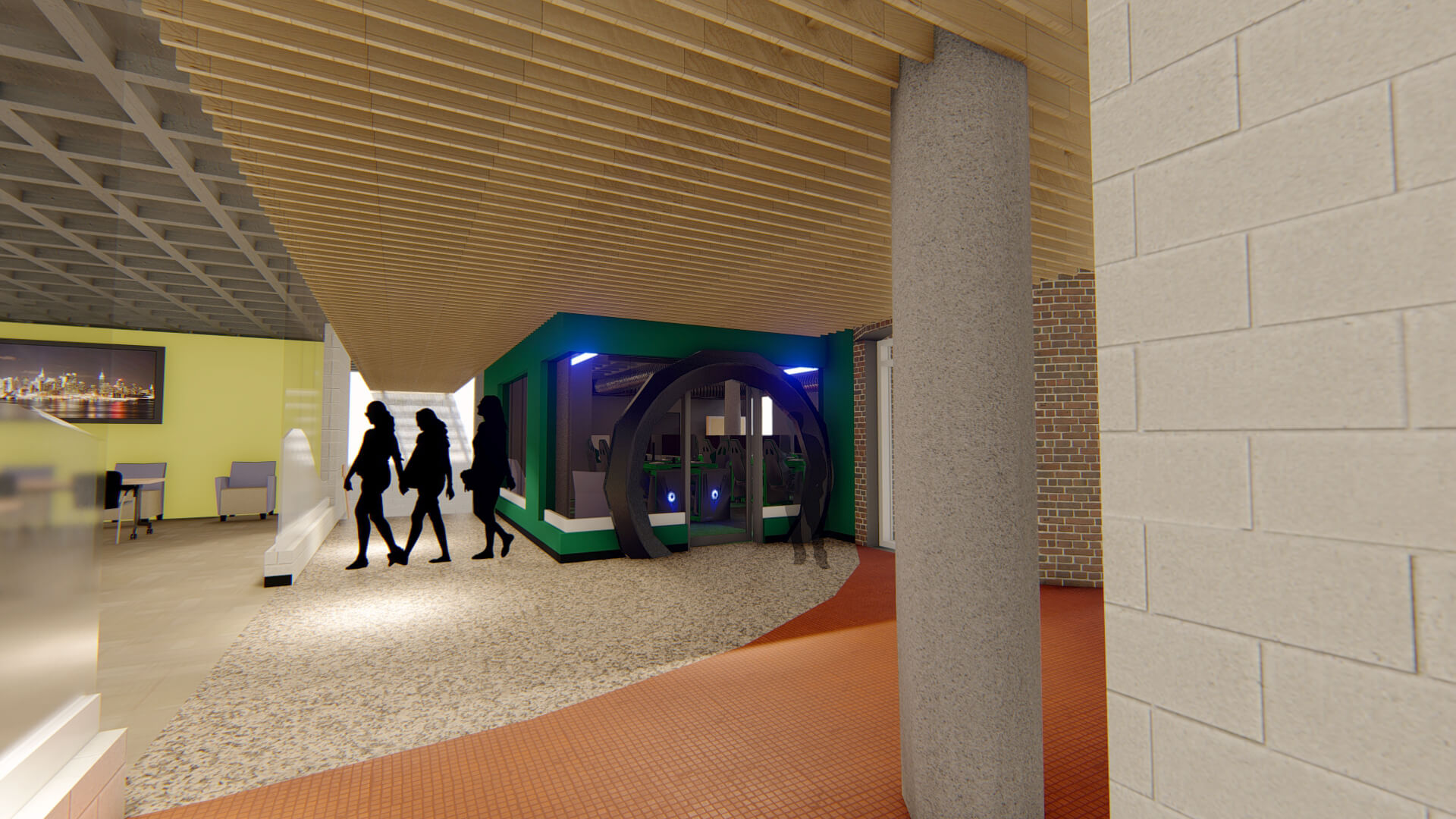 To create a futuristic feel, a Star Trek-like portal with sliding door was added to the entrance of the arena. Glass panels allow spectators to see into the space and provide a connection to the lounge outside the arena where games and tournaments will be streamed live for spectators and viewing parties.
Interior improvements to the arena include lockers and new gaming tables with an integral wire management system to keep the floor area clean and free of cables. A dedicated branch power circuit was brought to each game station along with 2 Cat 6 data cables. The overall layout of the gaming stations was designed so that the coach's screen or TV can be viewed from each game station. LED lighting was added and allows for flexibility with different levels of light.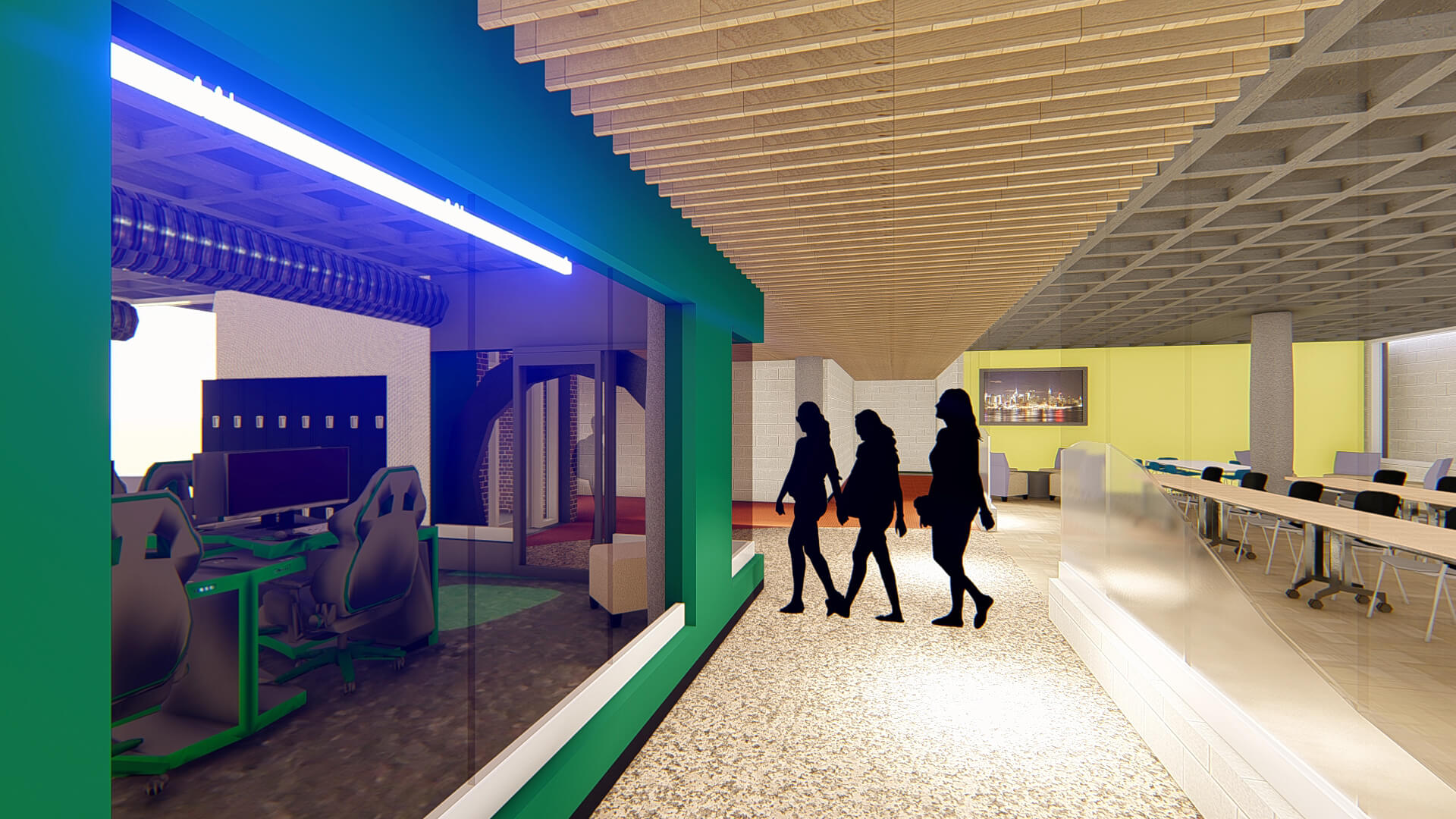 Portions of the ceramic floor tile in the lobby were replaced with a resinous flooring to modernize the lobby space and emphasize the connection between the arena and lounge. The College's logo could be added to the floor to increase on-campus visibility. To accommodate possible future sponsorships, ample wall space is provided so that logos and donor information can be prominently displayed.
Space was allocated for a communications rack and power panel, both of which are necessities to properly play the video games. The existing HVAC system consisted of a small window unit air conditioner that was ineffective in properly cooling the space. Beardsley added a rooftop unit and duct work to properly vent and cool the arena.